It is intriguing that when the topic here is the sexual abuse of children that some would like to silence or restrict that!!!
Why is that?
Home :: Papal Visit - USA :: USA - "God's Rottweiler" Becomes the Church's "Beloved German Shepherd"
United States of America
The Pope and his addressing the issue of clergy and sexual abuse by priests.
______.oooOOOØOOOooo.______
How Pope Benedict has disappointed the right.
Posted Friday, April 11, 2008, at 5:15 PM ET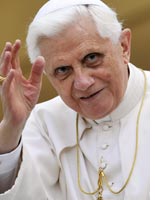 WhenCardinal Joseph Ratzinger was elected Pope Benedict XVI on April 19,2005, Catholic conservatives in America were licking their chops. "The'progressive' project is over," Catholic neocon George Weigeltriumphantly announced. William Donohue, the eccentric, right-wingpresident of the Catholic League, said of Catholic liberals, "We expectthat the weeping and gnashing of teeth will begin soon."
Three years later, as American Catholics prepare for the pope's visitnext week, those same conservatives in the United States have beendisappointed. They had hoped Benedict would confront liberal tendenciesin the church. Some, like Weigel, sought to purge the presbyterate ofgays whom they blamed for the sex-abuse scandal. They wanted theecclesiastical equivalent of court-packing, with the pope appointingonly conservatives to major posts. But Benedict has defied them in hisappointments, in his views on capitalism and the war in Iraq, and evenin his approach to other faiths. "No one would call Benedict thedarling of the left, but he has been moderate, pastoral, tolerant,nuanced," says Monsignor Lorenzo Albacete, a theologian and U.S. leaderof the Catholic group Communione e Liberazione.
Conservative distress began almost immediately after Pope Benedict took over, when in May 2005 he named
San Francisco Archbishop William Levada
to fill his old job as the prefect for the Congregation for theDoctrine of the Faith, a position that amounts to being the Vatican'sdoctrinal watchdog. Levada had been suspect to conservatives since1996, when he worked out a compromise on same-sex partner benefits withSan Francisco Mayor Willie Brown. Under Levada's proposal, employees atCatholic institutions could designate anyone with whom they werelegally domiciled as their beneficiary: an aunt, a cousin, a same-sexpartner. The proposal avoided the culture war that some Catholicconservatives were hoping for. In a controversial article in February2006, Father Richard John Neuhaus cited the Levada appointment as oneof the reasons for "a palpable uneasiness" among "those who greatlyadmired Cardinal Ratzinger and were elated by his election as pope."
The next year, when Benedict had to appoint a new archbishop forWashington, D.C.—his first major stateside appointment—neocons hoped hewould redeem himself. They championed three archbishops who hadpublicly urged denying communion to pro-choice politicians during the2004 election: Charles Chaput of Denver, Raymond Burke of St. Louis,and John Myers of Newark, N.J. Instead, Benedict chose PittsburghBishop Donald Wuerl, a moderate who has opposed turning the communionrail into a political battle station. Benedict further disappointedconservatives hellbent on denying communion to pro-choice politicianswhen he named as cardinal Boston Archbishop Sean O'Malley, who refusedto order Sen. John Kerry out of church. Benedict's choices shouldn'thave surprised anyone, though. According to one American present duringa spring 2004 Vatican meeting with U.S. bishops, then-CardinalRatzinger laughed when he heard of denying politicians communion basedon their political views. After all, popes have, over the years, givencommunion to Communist mayors, gay legislators, and countlesspro-choice politicians.
But appointments weren't the only areawhere Benedict failed to live up to expectations. Conservatives tookheart when then-Cardinal Ratzinger denounced the "filth" within thechurch at Good Friday services just weeks before his election as popein 2005. They understood him to refer to sexually active gay clergywhom right-wing Catholics blamed for the sexual abuse of minors. Butthe first victim of Benedict's purge was the founder of theultraconservative Legionnaires of Christ,
Father Marcial Maciel
,who under John Paul II had long avoided being suspended despitecredible allegations of sexual misconduct. Benedict also removed JohnPaul II's closest collaborator, Cardinal Angelo Sodano, whose ties toChilean dictator Augusto Pinochet had severely compromised the church'simage in Latin America. Sodano's American secretary was also sackedfrom the Vatican diplomatic corps late last year.
Pope Benedict shares virtually none of the core political beliefs of American neocons. In his book Jesus of Nazareth, hewarned against "capitalism that degrades man to the level ofmerchandise." He has consistently spoken out against the Iraq war. Andthe whole reason Benedict is coming to America is to address the UnitedNations, which is not the neocons' favorite organization. Even whenBenedict has endorsed a part of the conservative agenda, he has done sowith none of the rigidity that characterizes the writings of AmericanCatholic conservatives. Throughout his career, first as theologian,then as bishop and cardinal, and now as pope, Benedict has emphasizedthe centrality of the person of Christ in the salvation of the world.Yet he has been adept at making profound interreligious gestures,meeting with Muslim diplomats at the Vatican to soothe relations afteran unfortunate remark in a speech, reaching out to Eastern OrthodoxChristians at every opportunity, and even framing the central sectionof his book Jesus of Nazareth as a response to a book by his friend Rabbi Jacob Neusner. When Benedict brought back the traditional Tridentine Mass, he changed certain prayers from the Good Friday liturgy that were offensive to Jews.
Still,Pope Benedict is no liberal. One of the problems with most presscoverage of the Catholic Church is that the left-right template doesn'tfit very well. The right tends to ignore or water down the church'steachings about social justice, while the left frequently minimizes thechurch's teachings on sexual ethics. A pope can't side with eithergroup but must love them both and try to communicate the church'steachings in their entirety and integrity.
The differencebetween Ratzinger the cardinal—the man conservatives saw as an answerto their prayers—and Benedict the pope—who has disappointed those sameCatholics—has less to do with any changes within the man himself. Hehas, by almost all accounts, always been brilliant, concerned aboutoverly hasty theological change, personally kind, prayerful. What haschanged is his job. For 23 years, Cardinal Ratzinger's job was toprotect the deposit of faith from distortions or manipulations which,even if well-intended, might alter the content of what Catholicsbelieve was given them by God when He founded the church. This was adifficult and often controversial task, and it was a desk job. When hewas elected pope, he became a pastor. Albacete says, "He is committedto exploring how faith and reason work together to lead man to thetruth about himself. Benedict would never diminish himself, or hisoffice, fighting tired ideological battles." The change in roles can befound in another way: Until he was elected pope, had anyone ever seen apicture of Joseph Ratzinger embracing children?
Allpopes have three central tasks: to lead the church in prayer, to teachthe truths of the faith, and to govern the universal church. To watchBenedict preside at Mass is to see someone whose interiority, whosedepth, is almost tangible. Liturgies are never rushed. The sermons arealways exquisite. As a teacher, Benedict has used his weekly generalaudiences to revisit the teachings of the fathers of the church, thoseearly writers and thinkers who shaped Christian theology before thedivisions between East and West. His writings are accessible andprofound, and his best-selling book may reach people whom traditionalmethods of evangelization miss. Some quibble about his governance ofthe church—that appointments take too long, that he is not accessibleenough to this group or that. But Benedict has gone from being knownderisively as "God's Rottweiler" to becoming the church's "belovedGerman shepherd."
Cheering the pope in Washington and New Yorkwill be those Catholics who look to their church for comfort andchallenge, for solace and strength, people who are more concerned aboutloving their pope than they are about any ideological battles within orwithout the church. Joining in the cheers will be many of those whogreeted his election with trepidation. And if there is any gnashing ofteeth, it will be coming from the bleachers on the far right.
______.oooOOOØOOOooo.______
A collection of the preceding week in the news in USA

Having a problem accessing a file or finding what you are looking for?
Email us
for a listing of alternate locations.
---
Notify us
of an article of interest
Publishing a story about TFYQA? - See our for the
News Media
page.
Want to share your news! Use
Submit TFYQA News
.
Pedophilia and sexual abuse of children in Australia